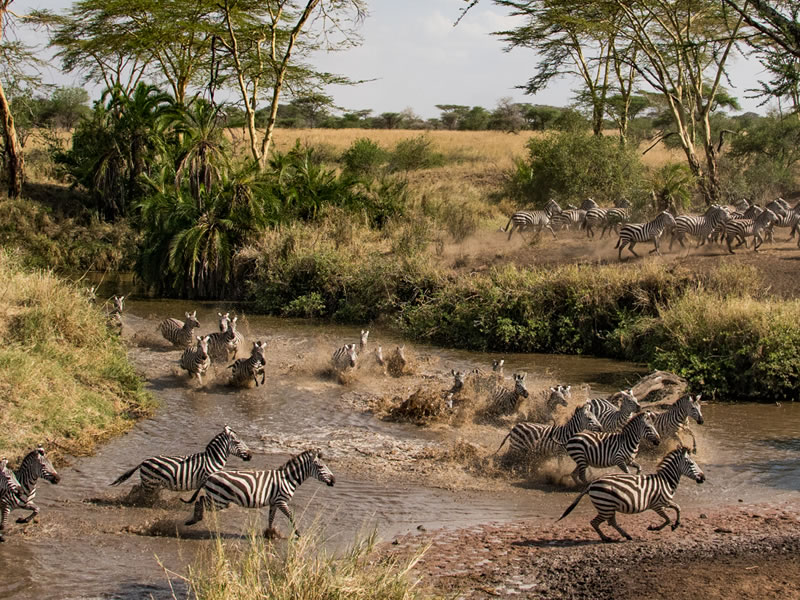 Katavi National Park was gazetted in 1974 and is located in Western Tanzania. It is a very remote park that is less frequently visited than other Tanzanian National Parks. The park is approximately 4,471 square kilometers (1,727 sq miles) in area, which makes it the third largest National Park in Tanzania. The park encompasses the Katuma River and the seasonal Lake Katavi and Lake Chada floodplains.
Wildlife
Wildlife features include large animal herds, particularly of Cape Buffalo and elephant, plus along the Katuma river, crocodiles and hippos which upon annual dry seasons results in mudholes that can be packed with hundreds of hippos. Some sources claim a very high biodiversity in the park, although there are also reports of wildlife decline due to illegal hunting and poaching, presumably 'bushmeat' sustenance. In general, what is probably most noteworthy feature of Katavi versus other Tanzania Parks is that it lacks human visitors and jeeps conducting game drives.
Visitors
Visitors to the park on an annual basis is unclear, except that in comparison to better known parks, is very low. From varying website claims, the number of visitors appears to be anywhere from 300-500 visitors/year. A survey of the actual rooms sold by the available 'Safari' style accommodations might reveal the number to be slightly higher, but based on total room count and season length, an upper limit can also be estimated. In addition to a public campsite (located at SO 06'39'19.1 E0 031'08'07.9), as of 2006, there were only two camps permitted to operate at Katavi, namely the Chada and the Foxes. These camps each have a visitor capacity limit of approximately one dozen.
Access to the park
Getting to Katavi for visitors will likely be arranged by the hosting camp, with one of the available charter flight services being Safari Aviation. All flights will require landing on the Katavi grass airstrip which has very minimal services. It is very approximately a two hour flight from Katavi to Daar Es Salaam via a small, bush-compatible light aircraft
4 Days Katavi National Park (Fly In Fly Out)
Day 01: Dar es Salaam/Katavi National Park
The morning after breakfast pick up from your Hotel in Arusha of staying in Arusha or Dar es Salaam at 8:00 am and transfer to the airport ready for your charter flight to Katavi National Park. Arrival picked up and drives to the lodge for the hot lunch. After a short rest, proceed with game viewing till sunset. Katavi National Park it's famous for localized Eland, Sable, roan Antelopes, Elephants, Buffalos, Giraffe, Zebra, Impala, and Reedbuck.
Dinner and overnight at the Camp/Lodge
 

Day 02: Katavi National Park Full Day

 
Today you can rest in your spacious and comfortable safari tent, whose wide-open facades offer panoramic views of the plains and the animals that constantly come and go. You often don't need to leave your tent porch to see a game of all kinds. Elephants are frequent visitors, attracted by the same shady fruit trees you'd love to sit under and the huge herds of buffalo grazing in the floodplain in front of the camp. If you're more adventurous, enjoy a guided safari or walking safari where the animals, which often run away from the sound of a car, won't even notice your presence. This is what makes walking here such an incredible experience.
Dinner and overnight at the Camp/Lodge
 

Day 03: Katavi National Park Full Day

 
After breakfast collects packed lunch for Ater breakfast and depart for a full day of game drives in that park, Katavi has similar wildlife to Ruaha, with an enviable selection of antelope including Topi, Roan, and Sable often found in large herds. Predators include some of the most luxuriously maned lions to be found, leopards, and hunting dogs. As the river dries up the hippos fight for space in the limited pools and the croc caves become visible along the bank, a fascinating sight. The greater Katavi area has 373 recorded species of bird.  The green season months will have additional migratory species.
Dinner and overnight at the Camp/Lodge
The morning after breakfast, with picnic lunch boxes, relax at the beach while waiting for a transfer boat at noon, ready for transfer back to the airstrip for catching your charter flight back to Dar es Salaam or Arusha city at 5:30 pm.
End of Programs