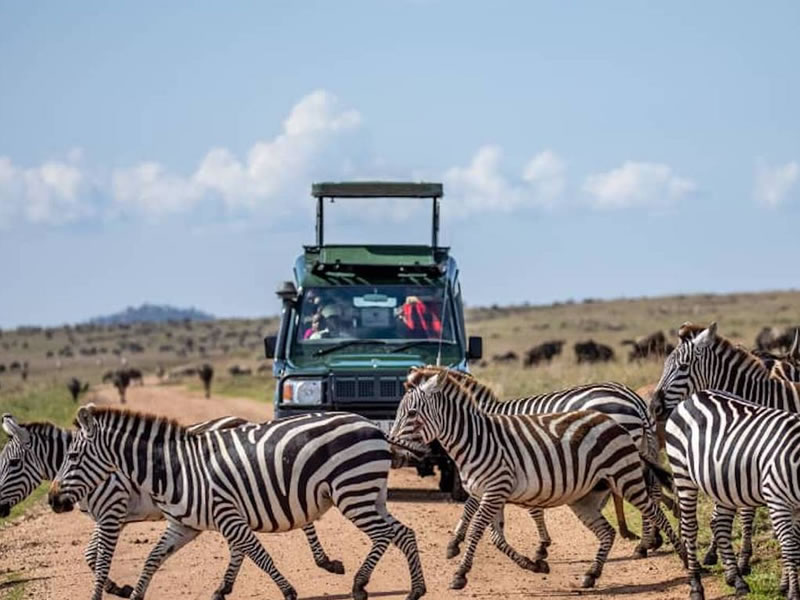 Masai Mara National Park is located in south west Kenya and is a vast scenic expanse of gently rolling African savannah plains measuring 1510 square kilometers in area and bordering the Serengeti National Park in Tanzania to the south. Masai Mara is a unique wildlife conservation haven, famous for its spectacular natural diversity of wildlife and is a premier Kenya Safari location in East Africa, offering visitors numerous reasons to visit this animal paradise. Large numbers of Lions, Cheetah, Elephant, Rhino, African Buffalo, Wildebeest, Giraffe, Zebra and many more animals are found in the park in their natural habitat, unconfined and free to roam the vast wilderness stretching for miles on end.
Masai Mara now also comprises a number of conservancies and group ranches bordering the main reserve and is home to some of the most diverse species of African wildlife and is also the site of the annual Wildebeest migration, simply called the 'Great Migration'. Masai Mara National Park is famous for this migration, when large herds of a million plus wildebeest, zebra and other animals including the Big Cats migrate north into the Mara from Serengeti National Park. The migration typically takes place between July to mid September and involves the wildebeest making dangerous crossings through crocodile-infested rivers. The 'Mara', as Masai Mara is also known, is among the best wildlife reserves not just in Kenya but also in Africa and the aim of this website, Masai Mara .Travel, is to offer comprehensive information to guide visitors and tourists in planning their visit or for booking a Safari in Masai Mara, suited to their preference. Travelers are expected to have numerous questions while planning their visit, everything from which is the best month to visit, to which is the better reserve, Serengeti or Masai Mara or even information on how to book a trip to this magnificent reserve. We aim to answer most if not all your questions through this platform.
In case you require any information, guidance or suggestions regarding a visit or to plan a Kenya Safari to Masai Mara, Africa's premium Game Reserve, do get in touch with us via email. We are also available on WhatsApp.
Things to do in Masai Mara
There are several exciting activities one can enjoy in Masai Mara. The most thrilling of these has to be the Hot Air Balloon safari, taken at the break of dawn and ending with a leisurely 'Champagne Bush Breakfast'. This is a truly unique adventure activity and the Mara provides the perfect backdrop for the amazing balloon excursion. The flight lasts for about an hour as you glide gracefully over the African savannah watching the magnificent wildlife below. The pilots are highly experienced and the activity boasts of an exceptional safety record. Another popular experience is visiting a traditional tribal Maasai village which allows visitors a fascinating insight into the unique way of life of the famous Maasai, a nomadic warrior tribe found in Kenya and parts of East Africa. There are also nature walks, bush meals and sundowners as some of the other popular things to do in Masai Mara as a tourist visiting this reserve.
It is no surprise then that tourists from the world over travel here to experience a Masai Mara Safari tour, more so as the reserve has been voted one of the new Seven Wonders of the World. Regarding the origin of the name, the word 'Masai' comes from the Maasai tribe, nomadic inhabitants of the area and the word 'Mara' is their word for 'spotted', referring to the ubiquitous flat topped acacia trees, shrubs and bushes that dot the landscape across most of the reserve.