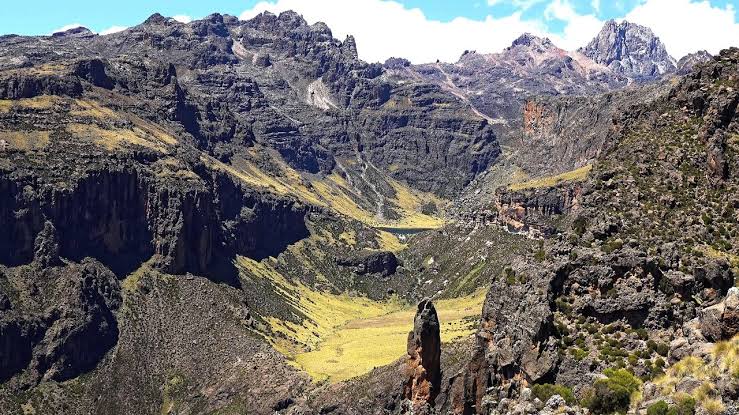 Mt. Kenya, Africa's second highest peak is regarded as the realm of Ngai, god of the local Kikuyu people. Traditionally, all Kikuyu home were built to face this sacred peak. They call it Kirinyaga, or place of light.
The mountain is an awe-inspiring sight. Its ragged series of peaks are crowned with snow, and its slopes are thick with forest. The mountain is best seen at dawn, when the days early light silhouettes its impressive summit high over the surrounding plains.
While the 5199 meter summit is a difficult technical climb, the lesser peak of Point Lenana (4985m) can be easily reached by any fit trekker. This trek takes between 3 and 5 days, through a fascinating world of forests, wildlife, and unique montane vegetation including pod carpus and groundsel, and finally one of the world's rarest sights, equatorial snow.
For those who don't want to climb the Mountain, now is a good time to learn about exercises for climbers for this expedition. The cool highlands that surround its base are well worth a visit. The forests are ideal for game viewing, and there are crystal clear mountain streams that abound with Trout….
Getting there – Main road access to Mount Kenya is via Nanyuki or Naro Moru, both easily accessed from Nairobi by bus/matatu or private transport. Some trekkers and climbers access the mountain from Chogoria. There is an airstrip in Nanyuki with both scheduled and charter flights available. Many trekking companies can organize transfers from Nairobi to Mt. Kenya. See the Trekking, Mountain Climbing and Safaris and Tours sections for details.
Getting around – Hotels in Nanyuki and Naro Moru can organize transfers to the gates of Mt. Kenya National Park.
Climbing Gear- Mount Kenya is a fascinating place to visit. But you do need the right gear to assist you in the climb. For instance, you need the best shoes to climb through the harsh terrain as you approach the peak. You also need to have proper clothing, jackets for the cold, etc.