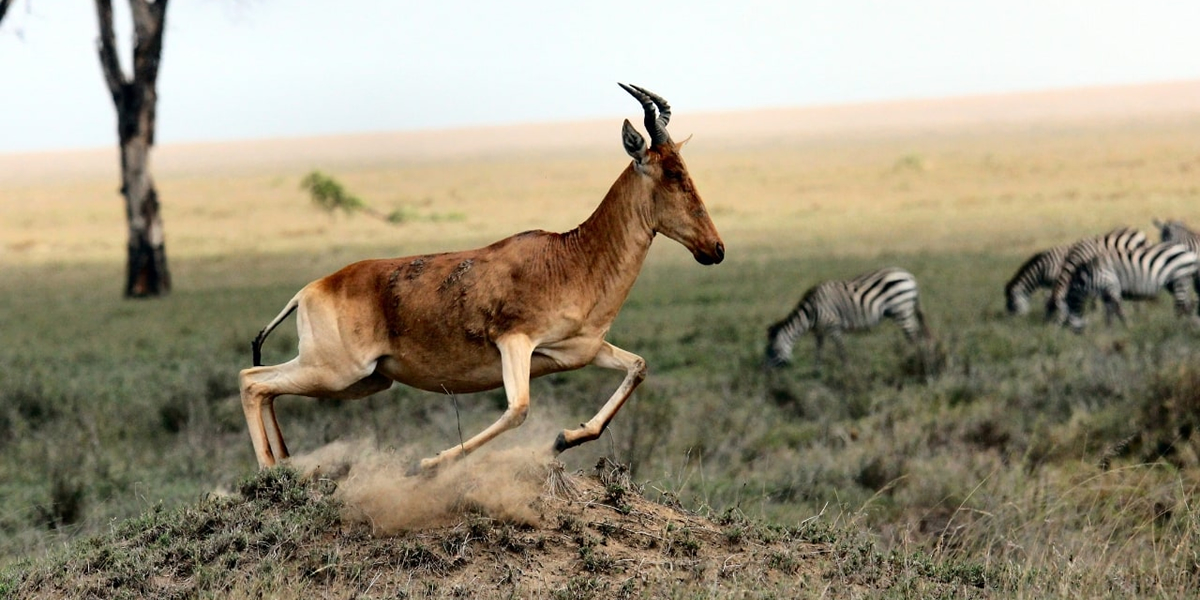 Ruaha National Park is the largest national park in Tanzania. It covers an area of about 20,200 km². It is located in the middle of Tanzania about 130 km from Iringa. The park is part of a more extensive ecosystem which includes Rungwa Game Reserve, Usangu Game Reserve, and several other protected areas.
The name of the park is derived from the Great Ruaha River, which flows along its south-eastern margin and is the focus for game-viewing. The park can be reached by car via Iringa and there is an airstrip at Msembe, park headquarters.
History
The creation of a national park in this area was first proposed in 1949 by the Senior Game Ranger in Mbeya, George Rushby. In 1951 it was gazetted by the British colonial authorities as an extension of the neighbouring Rungwa Game Reserve. People living in the new protected area were subsequently forced to move out. In 1964 it was excised from the game reserve and elevated to full park status.
Wildlife
Ruaha is famous for its large population of Elephants. Presently about 10.000 are roaming the park. Ruaha National Park is also a true birdwatchers paradise: 436 species have been identified of an estimated total of 475. Among the resident birds are different species of Hornbills, Kingfishers and Sunbirds. Also many migrants visit Ruaha, e.g. the White Stork
Other special animals in Ruaha are: the African Wild Dog and Sable Antelope. Rhinoceros were last been sighted in 1982 and are probably extinct in the park due to poaching.
The best times to visit for predators and large mammals is the dry season (May-December) and for birds and flowers, the wet season (January-April).
Environmental change
The park is currently facing a significant environmental challenge from the progressive drying up of the Great Ruaha River. The river used to flow all year round, but since 1993 there have been increasingly long periods every dry season in which it has dried up completely. Different hypotheses have been advanced to account for this, and one view is that it is caused by the expansion of irrigation schemes for rice cultivation and growth of livestock keeping in the Usangu wetland, which feeds the Great Ruaha River
Accommodation
There are five lodges in Ruaha: Mwagusi Safari Camp, Mdonya Old River Camp , Ruaha River Lodge, Kwihale and Jongomero Camp. There are also several park run public campsites.
4 Days Ruaha National Park (Fly In Fly Out)
Day 01: Dar es Salaam/Ruaha National Park
After breakfast transfer to Dar Airport for your scheduled flight to Ruaha
Ruaha National Park in the center of Tanzania takes its name from the Hehe word for 'river.' The eponymous Great Ruaha River serves as a lifeline for the park's wildlife. Although it's the largest national park in the country and rich in wildlife, Ruaha is one of the least busy places to visit in Tanzania, so safaris here feel remote and exclusive, although it is the largest national park in the country and rich in wildlife, Ruaha is one of the busiest places to visit in Tanzania, so trips here feel distant and unique.
Arrive at Msembe Airstrip. Met and transfer to the camp for lunch, optional afternoon game drive. Dinner and Overnight at Hotel/Camp/Lodge
Day 02: Ruaha National Park Full-day
After breakfast collects lunch boxes and depart for a full day of the game, all big cats are regularly seen, and wild dogs are the star attraction. They are especially easy to find when denning.
Several antelope species that are rare or absent in northern Tanzania, such as greater and lesser kudu, roan, and sable antelope, are often encountered. A picnic lunch will be provided and you will proceed for the game drive in the park. Late evening drives back to the camp with a game drive on the way. Dinner and overnight at Hotel/Camp/Lodge
Day 03: Ruaha National Park Full-day
After breakfast, early breakfast departs for a walking Safari, A great introduction to the small wildlife and magnificent arrangements of Ruaha National Park, along with a knowledgeable guide, a 2–3-hour walking safari offers a truly special and unique perspective on the park's fascinating inhabitants. A must-see attraction is a towering baobab in the park, where you'll be wary of the landscape.
Their impressive look makes it a great photo opportunity! Another striking feature of Ruaha is the sparkling wat ways that attract a wealth of games. After Walking go back to the vehicle and proceed with a game drive in the park, picnic lunch will be provided. Dinner and overnight at Hotel/Camp/Lodge
Day 04: Ruaha National Park/Dar es Salaam
Breakfast at leisure
Transfer to Msembe Airstrip for flight to Dar es Salaam, Depart to Dar es Salaam (via Selous). 13h50 Arrive in Dar es Salaam meets the driver and transfer to your hotel