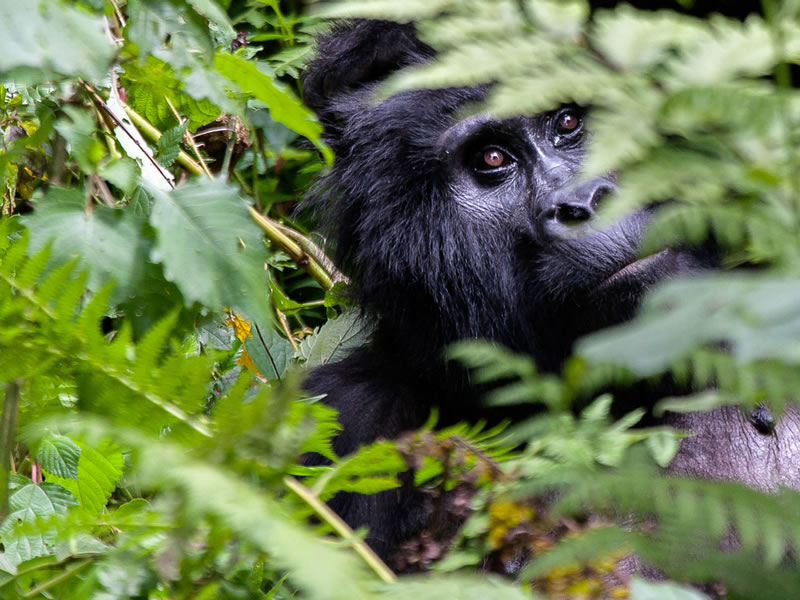 Virunga National Park is a UNESCO World Heritage Site located in the east of the Democratic Republic of Congo. Virunga is the continent's most biologically diverse protected area and a national park embarking on an ambitious development programme known as the "Virunga Alliance".
Situated in a region which has been deeply impacted by the effects of war and armed conflict for over 20 years, Virunga is currently protected by a dedicated team of 689 Rangers. These local men and women go through intensive training, risking their lives on a daily basis to safeguard the Park's exceptional wildlife, including the last of the world's endangered mountain gorillas.
Alongside this essential conservation work, the Park is committed to supporting local communities. Virunga has a vision for responsibly harnessing the Park's natural resources to create new opportunities for the four million people that live within a day's walk of its borders.
Focussing on three key areas: hydropower, sustainable agriculture and fisheries, and tourism, Virunga National Park is working to economically transform the region – creating jobs and reducing poverty rates. This innovative, community focussed approach to conservation is working to reduce the pressures currently faced by the Park's Rangers from armed groups, illegal poaching, and land encroachment.
Virunga National Park's headquarters at Rumangabo is home to the Senkwekwe Centre, the world's only facility for orphaned mountain gorillas. With expert staff who provide daily care for the orphans, who were each separated from their family due to the impact of poaching, the Senkwekwe Centre is a unique sanctuary offering the gorillas the chance to lead happy and secure lives in their forested enclosure.
Great Apes
Virunga National Park is the only protected area on Earth home to three taxa of great apes: the mountain gorilla, the eastern lowland gorilla and the eastern chimpanzee. Park Rangers and staff strive to provide conditions which support the growth of their populations, which are threatened by conflict, habitat loss and poaching, leaving them in danger of extinction.
Mountain Gorillas
Conservation efforts have helped the rarest of the three taxa to recover from IUCN critically endangered status to endangered. But there's still a long road ahead.
Eastern Lowland Gorillas
Despite being more numerous than mountain gorillas, its population is proportionately more depleted, leading the sub-species to be classified as critically endangered by the IUCN.
Chimpanzees
The endangered chimpanzee, one of five species of great ape, inhabits the tropical savannas and forests of central and west Africa.
Mammals
Virunga National Park is home to over 200 mammals including forest and savanna elephants, hippos, okapis, lions, and mountain gorillas.
African Bush Elephants
Rangers conservation efforts were rewarded last year by the return of large elephant herds to the Park. Learn more about these eco-engineers and the importance of their presence within the Park.
Hippopotami
The common hippo is one of Africa's largest and most dangerous land animals. Learn more about this iconic species.
Colobus Monkeys
Unlike other primate species, colobus monkeys have four hooklike digits and no thumbs; hence, the name colobus, derived from the Greek word "mutilated." Learn more about this beautiful species.
Okapis
Learn more about the okapi, also known as the forest giraffe, a species endemic to the tropical forests of the Democratic Republic of Congo.
Lions
Lions in the Ishasha Valley are famous for their preference for climbing and relaxing in the acacia and sycamore fig trees. Learn more about these big cats.
6 days Virunga classic package:
This 6 days Virunga classic package is of the most booked packages in Democratic Republic of Congo. It takes travelers on a planned safari in Virunga national park to enjoy mountain gorilla trekking and hike up mount Nyiragongo. This 6 days Virunga classic package sets off at 11:15am in the morning from Goma every Monday and Wednesday thus tourists need to plan properly for this package to avoid being left out on this breath taking adventure. The package includes 2 nights in Mikeno lodge the best luxury lodge in the Virunga national park. You will as well spend 1 night at Bukima tented camp and the other night at the summit of Mount Nyiragongo. This 6 days Virunga classic package also includes 2 gorilla trekking permits and a permit to hike up Mount Nyiragongo without forgetting a visit to the Gorilla Orphanage known as Senkwekwe.
Day 1: Transfer from Kigali to Goma and connect to virunga national park
Transfer from Kigali Rwanda to Goma: Be ready for pick-up from your early communicated location in Kigali be it a hotel or direct from Kigali international airport by our safari driver in Rwanda on day 1 of 6 days Virunga classic package. He will then brief you about this package and set off on the journey heading to Goma border. While in Goma, you will be cleared by Virunga tourism office. Proceed to check with the office and obtain your permits and finally join the awaiting convoy organized for the 6 days Virunga classic package. Expect to arrive at the lodge in time for your lunch. Check in for lunch and spend the remaining hours of the day at leisure. Meal plan: Lunch and dinner. Accommodation: Mikeno lodge (Luxury)
Day 2: First Gorilla trek in Virunga national park
1st Gorilla trek in Virunga national park: Arise fully energized at your lodge on day 2 of 6 days Virunga classic package, have your heavy breakfast, pack at least 2 littles of drinking water and a packed lunch offered at the lodge then meet your safari driver to be transferred to Bukima ranger post to join other trekkers for a briefing by the rangers. During the briefing, ensure that you keep your ears wide open to avoid messing up while in the habitat of endangered mountain gorillas for safety and security purposes. After the briefing, hire a porter or even 2 depending on your choice then start the adventurous and fascinating search of the apes in Virunga national park which lasts from about 2-7 hours. However, once you find the gorilla family, you have only one hour of taking photographs and watching these primates as they go on with their daily activities such as feeding, breastfeeding, grooming you ones, copulating, and sometimes fighting amongst themselves. After the trek, you will be driven to Bukima Tented Camp where you will check in for late lunch and relax at leisure awaiting next day's 2nd trek. You may however choose to have an evening walk. Meal plan: breakfast. Lunch and dinner. Accommodation: Bukima tented Camp
Day 3: Second Gorilla trek in Virunga national park
2nd gorilla trek in Virunga national park: On day 3 of 6 days Virunga classic package, enjoy your early breakfast, pack enough snacks, drinking water, and check out of the lodge and be driven back to Bukima ranger post for a pre gorilla briefing and you return in the wilderness of Virunga national park for a 2nd encounter with the endangered mountain gorillas in their natural habitats. After trekking gorillas, you will be driven to Mikeno lodge for an evening visit to Senkwekwe gorilla orphanage. Spend some time watching this gentle giants that lost their parents to poachers and war. Later in the evening, you will return to Mikeno lodge for dinner and overnight. Meal plan: Breakfast, lunch and dinner. Accommodation: Mikeno Lodge (Luxury)
Day 4: Free day in Virunga national park
Free day: On day 4 of 6 days Virunga classic package, arise from the comfort of your bed to a luxury breakfast and spend the entire day chilling and enjoying all the benefits of a luxury Mikeno lodge. You may decide to take some guide walks and explore the places around your lodge but remember to get back to your lodge in time for dinner. Accommodation: Mikeno lodge (Luxury)
Day 5: Mount Nyiragongo Hike (Ascend)
Mount Nyiragongo hike: After breakfast at your lodge on day 5 of 6 days Virunga classic package, check out the lodge and be driven to Kibati Ranger post where the trailhead for Mount Nyiragongo hike is situated. You will then meet with other hikers for briefing about detailed information regarding Mount Nyiragongo one of the most active volcano that last erupted in May 2021. Hire a porter and by 10:00am, you will start ascending together with the armed rangers and local guides. During the hike, look out for several wildlife species including primates, mammals, birds and the stunning views of the neighboring volcanoes in different parks. Along the hike, you will have 2 stopovers for lunch and relaxation as you proceed until the summit where you will spend an entire night. Meal plan: breakfast, packed lunch and dinner. Accommodation: Nyiragongo summit shelters
Day 6: Descend Mount Nyiragongo and drive back to Goma
Descend back to Kibati and transfer to Goma: Arise at the summit of Mount Nyiragongo on day 6 of 6 days Virunga classic package, have breakfast and embark on a descent back to Kibati ranger post where you are expected by 12:00pm. Upon arrival at Kibati, you will be picked and driven back to Goma where our Rwanda safari driver with then receive you upon crossing into Rwanda for a transfer to Kigali. Lunch will be enroute and depending on your flight time, let your driver take you on a thrilling Kigali City tour as you explore one of the most beautiful and clean cities here you will visit some of the genocide that were put in place to commemorate the several Rwandese who were brutally murdered in cold blood during the 1994 genocide, visit some market centers like kimironko market, craft shops and many more to buy some souvenirs and finally be dropped off either at your preferred hotel in Kigali or direct at Kigali international airport for departures. Meal plan: breakfast and lunch
END OF SAFARI