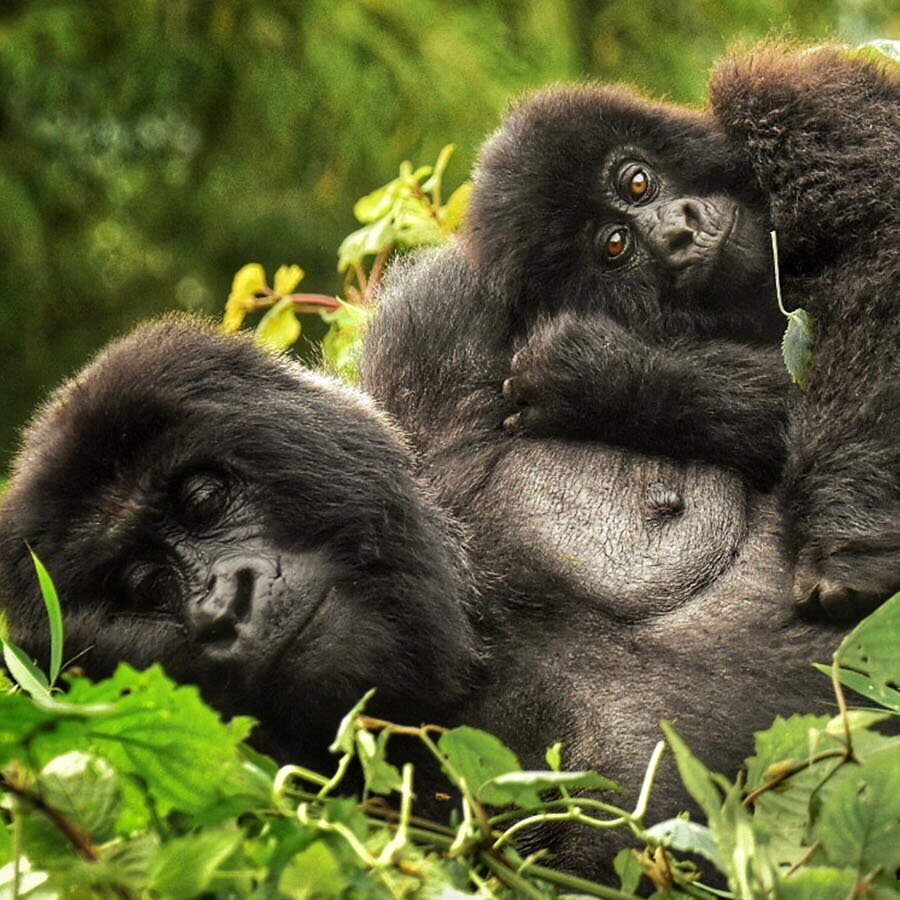 Volcanoes National Park Rwanda is one of the 3 homes of the endangered mountain gorillas within the Virunga Mountains. Volcanoes national park is a stop centre for all Rwanda gorilla safaris sheltering the highest number of mountain gorillas in the Virunga Conservation area. The strategic location of the VNP roughly 2 hours drive from Kigali international airport make it the most accessible gorilla national park in the world. Besides gorillas, Volcanoes National park is a home for golden monkeys, a variety of birds, reptiles, amphibians, and insects among other creatures which together make a complete Rwanda safari package.
Spanning on a 160 sqkm area in the northern part of Rwanda, Volcanoes national park is part of the great Virunga volcano conservation region spanning to cover Virunga National Park Congo and Mgahinga Gorilla National Park in Uganda. It was initially a small area around Karisimbi, Mikeno and Visoke volcanoes which was gazetted to protect the Mountain gorillas which were facing the threat of extinction as a result of poaching.
Background
In 1929, Volcanoes national park was extended into Rwanda and the then Belgian Congo and was named Albert national park managed and run by the Belgian Colonial Authorities. During the early 1960s, the park was divided as Rwanda and Congo gained their independence and by the end of that decade, the park was almost half of its original size.
In 1967, the American primatologist Dian Fossey who had been doing research on mountain Gorillas in the forests of Congo fled from insecurity and established her research base at a place between Visoke and Karisimbi volcanoes that was yet to be known as Karisoke research center. She spearheaded the conservation campaign of the mountain gorillas and mobilized resources to fight against poaching in this area, a fight she put up until her murder in 1985. She was buried at the research center next to the grave of her favorite gorilla called Digit.
The park continued to suffer at the mercies of poachers though conservation efforts were also underway. In the early 1990s, the park became a battlefield for Rwanda's civil war which paralyzed tourism activities until 1999. In 2005, in a bid to boost conservation and gorilla tours in Volcanoes national park, Rwanda introduced the annual baby naming ceremony for baby gorillas known as 'Kwita Iziina' which has seen great results in as far as gorilla population in volcanoes is concerned.
Other wildlife species in Volcanoes National Park Rwanda
In addition to mountain gorillas (Gorilla beringei beringei), Volcanoes national park is home to golden monkeys (Cercopithecus mitis kandti), Spotted Hyena (Crocuta crocuta), buffaloes (Syncerus caffer), elephants, black-fronted duiker (Cephalophus niger), and bushbuck (Tragelaphus scriptus). The park also harbors 178 bird species including at least 29 endemics to Rwenzori mountains and the Virungas.
How to get there
Volcanoes National Park is located in a small village called Musanze previously well-known as Ruhengeri, which is very accessible by public transport from Gisenyi or Kigali or from the airport. The drive to Volcanoes national park is 2 hrs and hence one can do gorilla tracking on the same day and drive back to Kigali after the trek. You will be required to arrive at the headquarters of ORTPN in Kinigi, at the park entrance, by 7:00 am, therefore, if you hope to trek gorillas for one day, you have to wake up very early for your journey so that you are on time. However, there isn't any public transport from Musanze to the headquarters of the park at Kinigi.
Activities in the park include:-
Gorilla trekking, Hiking Karisimbi volcano (3,800 m), One day Mount Bisoke volcano hike, Visiting Dian Fossey, Visiting the twin lakes of Ruhondo and Bulera
Accommodation in and around Volcanoes National Park
There are a variety of accommodation facilities within and around Volcanoes National Park ranging from luxury to midrange and budget facilities to cater for all categories of travellers. Here is the list of some of the hotels and lodges around Volcanoes National Park.
What to wear for gorilla trekking?
Gorilla trekking is a unique adventurous exercise with unique requirements especially in terms of trekking gear. Here is the list of gorilla trekking gear and the packing list.
Best time to visit Volcanoes National Park
Gorilla trekking in Volcanoes National Park takes place throughout the year though the dry season is preferably the best time to visit the park. Here is the full guide on when to visit Volcanoes National Park, Rwanda's weather, seasons, what to carry for your trip, among others.
Golden monkey tracking in Volcanoes National Park
Besides mountain gorillas, golden monkeys are other exciting attractions that Volcanoes national Park has to offer. Unlike gorilla trekking, tracking golden monkeys in the park is much cheaper and convenient though both activities have the same regulations.
Dian Fossey tomb in Volcanoes National Park
The tomb of American primatologist Dian Fossey lies at Karisoke Research Centre within Volcanoes National Park where travellers pay regular tributes to this great conservationists who kick-started gorilla protection in the park. Fossey was killed in 1985 by poachers in Volcanoes National Park while carrying out her primary work of protecting mountain gorillas.
Volcano hiking in Volcanoes National Park
There are 3 Volcanic summits within Volcanoes National Park including Mount Karisimbi, Mount Bisoke and Mount Muhabura. Mount Karisibi is the most popular for volcano hiking given its beautiful snow-caped top and the wonderful views it offers to hikers for the surroundings.
3 Day Rwanda Gorilla Trek
3 Days gorilla safari in Volcanoes national park. Quote includes a gorilla permit, transport & accommodation. This tour starts from Kigali; tour activities include visit to the genocide sites, local markets, gorilla trekking and either golden monkey tracking or Hike to the Dian Fossey Grave site.
Day 1: Arrival in Rwanda – Kigali
Pick up from hotel or airport by our tour guide who will brief you about your safari, there hit the road driving north of Rwanda to Volcanoes National Park, viewing the spectacular scenery of the Virunga Mountains en route. For early arrival in Rwanda, you will enjoy a grand Kigali city tour, Tour the Gisozi genocide site, the national museum, the markets, and have lunch in Kigali before embarking on your journey to Ruhengeri – location of the Volcanoes national park.
Travel time to Volcanoes NP: About: 2 Hours.
Day 2: Gorilla tracking – Community walk / Twin Lakes Tour
Have an early breakfast at your hotel, you will prepare to set out for this great adventure of trekking the mountain gorillas in the park. The procedure are quite easy, you will proceed to the headquarters of the park where you will gather for a vital briefing regarding these gorillas, prior to partitioning into groups. If fortunate, you will surely soon find the mountain gorillas and while there you will be permitted to spend one hour in the presence of these very peaceful giants. At the finish of this trek, you will return to your lodge for lunch and relax. In the afternoon if interested set out for a tour to the twin lakes of Ruhondo and Burera or take a community walk around neighboring communities of the forest. Interact with the local people; learn about their way of living. After a wonderful evening, you return to your lodge for dinner and rest.
Day 3: Golden Monkey tracking and transfer back to Kigali.
Early breakfast and proceed for golden monkey tracking, another existing adventure in volcanoes national park. After briefing, finally enter the forest to meet face to face with the golden monkeys. You will see them play as they jump from one branch of tree to the other; all this will be amazing and memorable for your safari. Drive back to Kigali for a city tour, you will visit some craft shops and buy for yourself a souvenir. Continue to the airport for your flight and say farewell to Rwanda.
End of Safari